How To Contact Microsoft Surface Service Center Singapore
Owning a Surface device can increase your productivity at work, and enjoy your favourite multimedia content on the go. It's an investment you'll want to protect for the long haul.
Keeping your Windows device in optimal condition is critical to improving your organization's collaboration, mobility, and security. Without functional Surface devices, your team can not get their jobs done! In the event that a replacement or repair is required, it needs to be taken care of without delay at a cost-effective price.
Your Microsoft Surface device comes with a 1-year limited manufacturer's warranty, giving you even more assurance that your work will get done without delay.
What You Need to Know before Sending Your Surface Device For Repair?
Before proceeding with the warranty claim, be sure you have your device covered by the warranty or charge for the repairs.
Thanks to the Surface Support page, it is simple to check whether your Surface tablet or laptop still qualifies for warranty service if you log in.
Check your Microsoft warranty.
First of all, log in to the Microsoft Support page below and register your warranty online.
When you have signed in to your Microsoft account, you'll be able to verify what your Surface warranty covers. Here's how:
Log-in to account.microsoft.com/devices with your Hotmail user id.
Choose which type of model you need to verify the warranty status on.
At the Device coverage paragraph, you will notice the warranty expiry date stated.
How To Book An Appointment for Surface Device
1. To start booking an appointment for your Surface device repair, click on this link https://www.microsoft.com/en-sg/store/locations/answer-desk
2. Choose a relevant topic: in this case, select Microsoft Surface Support
3. Select your desired appointment date and time.
4. Fill in your personal particular and click OK to confirm your repair schedule. You will receive an email notification to manage your appointment.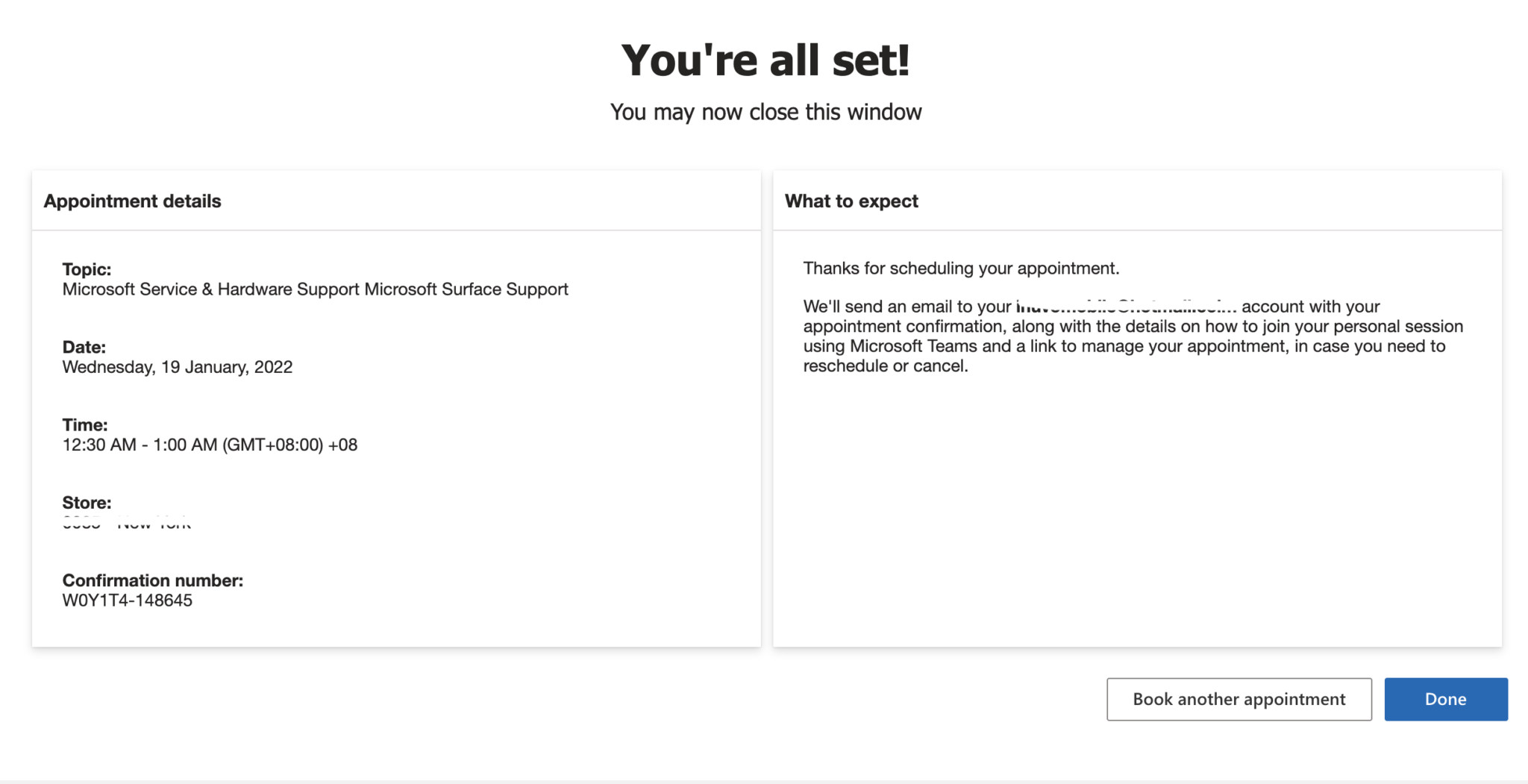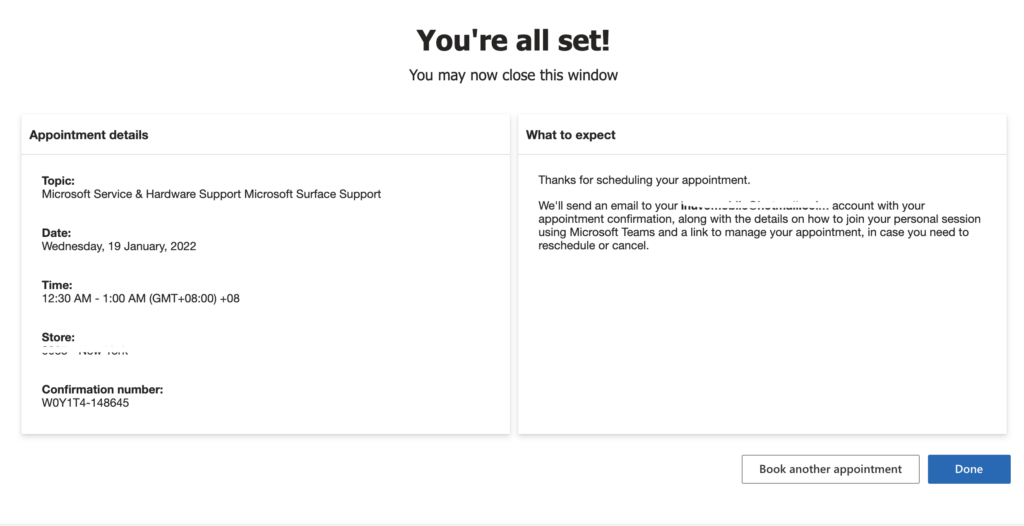 Things to do before requesting service
Back up your data on another PC or external hard drive.
If your device cannot power on, sync your settings for instance, browser history, bookmarks, notes, color theme, layout to OneDrive.
How much does out-of-warranty repair cost for your Surface device
Suppose your Surface device is not covered by the Standard Limited Warranty or the Microsoft Complete Extended Service Plan. In this case, you have the option to get out-of-warranty support from Microsoft for a fee. Microsoft has now published a detailed price list for the repair and replacement of Surface products. However, the prices are subject to change in case of a final assessment by the service staff. Microsoft reserves the right to repair any part of your Surface Pro or replace it entirely with a refurbished product.
Please note that for older models such as Surface Pro 4, Surface Pro 3, Surface Pro 3 LTE, Surface 3, Surface 2, Surface Pro 2, Surface Pro 1, Surface RT. Out-Of-Warranty support will not be covered.
Here Are Some Of Microsoft Surface Product Out-Of Warranty Price List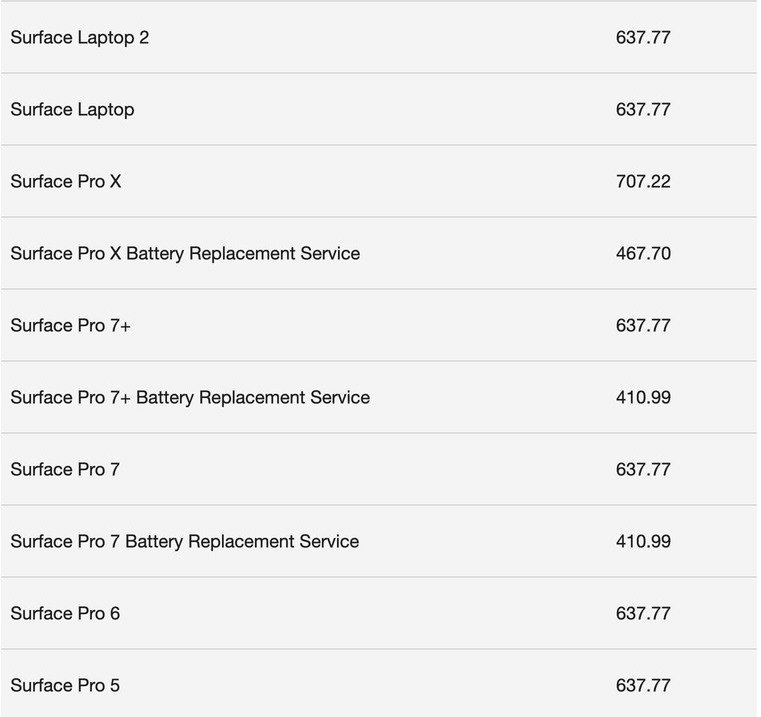 Go to the full out-of-warranty repair cost list here.
Why Choose Notebookrepair.sg for your Microsoft Surface Out-Of-Warranty Repairs?
As one of the most cost-effective and reasonably priced Microsoft Surface repair shops on the market, NotebookRepair does not compromise on the quality of repairs. Along with up to 90-day customer service, all of this sets us apart from other service providers.
Our Microsoft Surface repair service offers repairs for almost all models of Microsoft devices. Whether it be LCD replacement, charging port replacement, hard disk repair, or even motherboard repair; we've got you covered.
If your Surface tablet has underlying issues that prevent the system from working properly, but even the Microsoft service center is unable to identify it, our tech specialists with more than 15 years of repair experience under out belt, along with the most advanced repair equipment we are able to troubleshoot the problem and resolve it without delay.
We Had You Covered With Free Checking Service
Our technicians have repaired hundreds of broken Microsoft Surface devices with great effort and thoroughness. We will continue to serve Microsoft Surface device users with dedicated, high-quality service and unparalleled professionalism.
We meticulously repair your Windows laptop using advanced tools and parts. So far, 99 percent of our happy customers are satisfied with our repair. Thanks to our 90-day after-sales service, all our clients can enjoy peace of mind.
Feel free to contact our team via Whatsapp chat or contact form if you have any queries about our Microsoft repair support. We will do our best to answer your inquiry as soon as we receive your message.
Thank you for choosing Notebookrepair.sg as your Windows Surface repair partner!